Freezing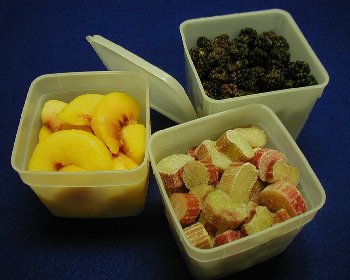 Freezing food is easy, convenient, and the least time-consuming food preservation method. But freezing food is a science because of the chemical and physical changes that occur over freezer storage time.
Freezing does not kill bacteria, it only slows down the growth of bacteria and slows the enzyme activity which can affect the quality of the food. Freezing will affect the texture of any food because the water in the food expands and breaks cell walls. This results in softer products, especially in fruit. Quality is also affected by fluctuating temperatures during freezer storage. Foods may thaw slightly, then refreeze and ice crystals form on the package. For best storage, keep the freezer below 0°F.
Vacuum and Reduced Oxygen Packaging
Reduced Oxygen Packaging (ROP) of meats and food may offer some benefits to retail food establishments. However, it is important to understand the food safety concerns and know the regulations tied to this type of packaging. This fact sheet explains the type of packaging and food safety concerns and how to mitigate them.
How to Freeze Food
Kansas State University publications
Kansas State University Publications in Spanish
Baked Goods
Other Resources